About

Phoebe
A whatever the hell's mood kind of blog.
I like mangas & animés + Harry Potter + Panic! at the Disco + Stitch + Tim Burton + F.R.I.E.N.D.S. + Pride&Prejudice + BOOKS + other stuff
fb||ask||twitter||formspring||goodreads
muggle/s on my page
don't follow if you don't like what i post.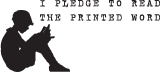 Looking for something specific?
"
He's always got a book with him, and if there's a lull in the conversation he may pull a book out and start reading it. He just knows an amazing amount of things but he complains about his bad memory. On a daily basis he probably does have a bad memory, and I think that has something to do with his interest in questions of memory and bringing back the past and things of that sort in his books. But he does remember an amazing amount of what he's read and what he's heard.
"
—
"
The work of art is born of the intelligence's refusal to reason the concrete.
"
—
"
To be Greek one should have no clothes: to be medieval one should have no body: to be modern one should have no soul.
"
—