About

Phoebe
A whatever the hell's mood kind of blog.
I like mangas & animés + Harry Potter + Panic! at the Disco + Stitch + Tim Burton + F.R.I.E.N.D.S. + Pride&Prejudice + BOOKS + other stuff
fb||ask||twitter||instagram||goodreads
muggle/s on my page
don't follow if you don't like what i post.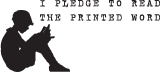 Looking for something specific?
what if there were professional text post critics

Rating: ★★★★☆

Witty and insightful. A must-reblog post. Suspense from lack of punctuation and resolution leaves the reader pondering possibilities late into the night.
(via physics-and-fiction)
"
I stepped into the bookshop and breathed in that perfume of paper and magic that strangely no one had ever thought of bottling.
"
—
a little girl who grows up thinking all doors are automatic but actually she's haunted by a really polite ghost
(via creamteasandjammydodgers)